Is Ghost Investigation Dangerous? – One man's story
The following account is not secondhand or in any way fictionalized. This is a personal account of my own experiences.

A group of people enters a old building, armed with all sorts of electronic equipment and digital cameras. They come from all walks of life, a college student, a grandmother, an engineer, but they all share in common one purpose: to discover evidence of ghosts and therefore a paranormal world. This activity takes them out of the mundane, depressing ordinary world of the physical existence.
This scene is played out hundreds of times each night across the western world with the newfound "hobby" of ghost hunting or paranormal research. The popularity of this activity has been heightened by such high quality radio programs as Coast to Coast a.m. and television programs as "The Ghost Hunters."
This pursuit used to be one I participated in with great zeal. Armed with the latest Digital Video camera and audio recorder, I would cruise locations ranging from historical graveyards to modern-day office buildings in search of evidence of a life beyond our physical existence. I most certainly did come away with evidence.
The interesting thing was the more I searched the more I found. At first this phenomena would only occur at the locations I was visiting. However, the phenomena began to follow me home. At first, there were strange movements I would see the corner of my eye. The phenomena began to elevate and until not only I was experiencing these things, but other people were experiencing them as well.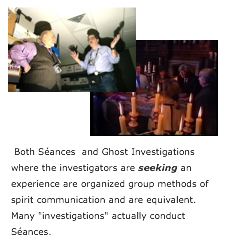 The problem was these experiences were no longer fun. Shadow people, semitransparent dark blurry forms of human like shapes, would be seen regularly running down my hallway towards my bedroom. Family members began to have bizarre dreams and incredibly vivid nightmares. If these manifestations were only happening to me, I could've passed it off as vivid imagination. When precious family members began to be negatively affected I realized the seriousness of the situation.
The height of this activity reached the pinnacle shortly after there was an unusual murder in the otherwise quiet suburban neighborhood in the third most safe city in America according to the FBI. We also began to have UFO sightings, and incredibly bizarre buzzing or whirring sounds flying over our neighborhood. My son while walking on a trail near our house, saw an upright red-cloaked creature with animal-like legs as clear as day.
Several teenagers in our neighborhood had been experimenting with occultic conjuring on a hill above our neighborhood. Occultic symbols that I was familiar with due to my research, began to be painted like graffiti on one of the high-voltage transmission line towers. A feeling of dread enveloped the area.
The only thing I did know was that I and my family were oppressed by some very dark forces. The spiritual world was very real to me. All of the "happy thoughts" and New Age appeals to the "protecting light" had no effect on this activity. I cannot tell you how terrible and dreadful some of these experiences were.
In desperation, I appealed to the son of God, Yeshua, known in the Western world as Jesus. After I gave my life to Yeshua, the oppressive activity stopped. Activity continued, and to some degree continues today, for the others in the neighborhood. However, for me and my family, we are at peace. While it may sound corny or hokey to you, I know for certain that when I pled the blood of Jesus and asked for the forgiveness of my sins, this unleashed a far greater restraining power over these dimensional experiences.
I can't say for certain that all the activity we experienced was caused by my paranormal research. Clearly there are those in the neighborhood who were practicing Occultic worship and perhaps even overt Satanism. However, I do know one thing for certain. If you seek communication with the spirit world you can very well open the door to negative entities that masquerade as dead humans. Ghost research is very much like a Ouija board; it is a vehicle of communication.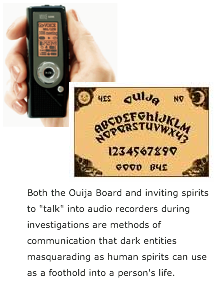 Ghost researchers often see the danger in séances and Ouija boards. However, the very act of this hobby-research is reaching out in hopes of communication with this spirit world. When you run a digital recorder in hopes of Electronic Voice Phenomena, you are inviting an entity to talk to you. In my opinion, opening up yourself to the spirit world in this manner is akin to putting a fresh steak in the middle of the jungle full of hungry, cunning and deceptive tigers.
Lots of ghost research websites promise protection via happy thoughts and mysticism. For example:
The first most important thing to do is to envision oneself in a "Christ like" white lights, . . . Also remember that it is important that you believe that God and his angels will protect you because this protection is only as powerful as you believe in your heart it to be.
– http://www.angelfire.com/scifi/deliverances/dangers.htm
Instead of saying strictly Christian based prayers, we gave her prayers of protection based on Michael the Archangel
– http://ezinearticles.com/?Does-Religion-Play-A-Part-In-Ghost-Research?&id=877912
In my experience, "visualizing" yourself being surrounded by imaginary light is not going to cut it in protection. Despite what you may hear, human beings cannot use mental power against multidimensional entities of incredible potency and cunning, anymore than you can use mental, positive thoughts against an oncoming locomotive. The spiritual world is very real and can manipulate our physical world. As for the conjuring of Angels, the Bible is very clear that good Angels do not respond to prayer and worship; it is the fallen angels who seek worship.
Ghost research for the sake of science is one thing, but most people are not doing it for science; they are hoping for experience. So if you're so inclined to want to experience the spiritual world, I would invite you to seek God through Yeshua. I know that He makes the spiritual world for me very real now in a very positive way. I don't need to creep into darkened buildings to know that there is a world beyond my physical reality. Now instead of dark oppression, I have daily amazing things happen to me that could not be coincidence, and are very positive. I still maintain a research into this world that most people don't believe in. However, now I am not on my own, but relying on God in his infinite word for guidance. For me, all is supernatural now
— DryWind