Sides of the North – A Path Above the Highest Dimension
Modern physics points to the reality of other dimensional existences, and this demonstrates that what we flippantly call the spirit world exists not as an unreal 'ghostly' realm, but a series of very real dimensions – some more real than the subatomic – electromagnetic dance of the "material world."
The Bible challenges the superstitious belief of a purely ethereal spirit world by setting up a heirarchy of realms. For example there is Sheol (the abode of the dead), the Earth, Heaven, and the very highest- the throne and mountain of God.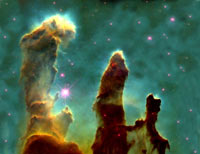 The the Bible speaks of the Sides of the North as being a holy realm, which is above all and something our physical mind cannot understand – a completely transcendent place.   It is far more than a mountain; in fact the great mountains of the earth are only limited "models" or facsimiles to Zion, like the way a simple paper airplane "models" a greater reality of a super-jumbo airliner.
Psalm 48:1-2
Great is the LORD, and greatly to be praised In the city of our God, In His holy mountain.

Beautiful in elevation, The joy of the whole earth, Is Mount Zion [on] the sides of the north, The city of the great King.
The archangel who rebelled against God pledged in his pride to ascend to this realm:
Isaiah 14:12-15
"How you are fallen from heaven, O Lucifer, son of the morning! How you are cut down to the ground, You who weakened the nations!

For you have said in your heart: 'I will ascend into heaven, I will exalt my throne above the stars of God; I will also sit on the mount of the congregation On the farthest sides of the north;

I will ascend above the heights of the clouds, I will be like the Most High.'

Yet you shall be brought down to Sheol, To the lowest depths of the Pit.
Instead of the dimension above all dimesions, God casts this being into the lowest abode.
The Bible has much to say about the landscape of the complex hierarchy of the multidimensional realm that is unseen to us, yet affects nearly everything on this earth, from personal lives to geopolitical realities. Above all this reality is God, who sent his son to redeem us lowly humans from being continual victims of the forces of darkness and of death itself.