It's Happening Again – The New Wave of Anti-Semitic Hatred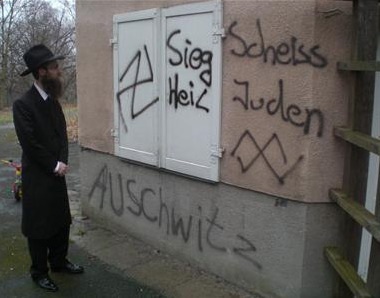 With Israel's incrusion in Gaza, Israel's delayed reaction to the hundreds of deadly rockets fired at its citizens is showing how the dark forces of anti-semitic hatred are once again festering to the surface worldwide.  In Europe, with Hitler a distant abstract memory, over 60 years of humanistic, leftist pacifism has failed to deal with the supernaturally driven evil that targets one small group of people and their tiny swath of prophetic land.  Beatings, intimidation, fire bombings, and crowds screaming Nazi death slogans (see full list below) are being generally ignored by the "enlightened" media in Europe and elsewhere.  While there are no doubt those who protest Israel's action peaceably, their ill-guided pacifism and muted contempt,  rings of the do-nothings who sat on the sidelines during attacks on the Jews during the 1930's
This humanistic education cannot wipe anti-semitism because it is not from a lack of reading philosophy.  Anti-semitism is a blatant demonstration of the spiritual reality that exists despite the materialism of leftist ideology.  The Jews are hated because this world is fallen, both with mankind's inherent depravity and a very real non-human forces of evil under the command of a powerful multi-dimensional entity called by many human names.
They are hated because the very miraculous survival of the Jewish people through thousands of years of diaspora is evidence of a God – a God who came to this earth 2000 years ago in Christ and will come again to sit on the throne of this world from the land of His birth. God has not forgotten the Jewish people, despite the liberal theology of mainstream "Churchianity" that claims the church has replaced Israel. 
As a Christian, I am shamed that those who call themselves Christians would once again set up a religious system that would tolerate the politics used in this new Nazism. This comes not only from the social left of the church but also the paranoid conspiracies of some who see Jewish plans involved in their imagined scenarios.  Satan loves both sides here, because they all point to the continuation of his extermination of God's signature upon humanity.
Please realize that I do not blindly support all that Israel does; their secular embrace of humanism has left them blinded.  The discotheques of Tel Aviv imitate the very debased immortality of America and Europe that would usher in a new Auschwitz. 
From http://www.adl.org/main_Anti_Semitism_International/Gaza_Tensions_Europe.htm:
Following is a selection of anti-Semitic incidents that have occurred in Europe since Israel's Gaza incursion. 

Belgium: 
• Two synagogues and a Jewish home were attacked with Molotov cocktails. 
• Belgian Jewish leaders say they have received dozens of death threats. 
• Jewish stores and a Jewish school were vandalized.

Denmark:
• Two Israelis were shot by a Dane of Palestinian descent.

France:
• A burning car with a Molotov cocktail was rammed into the door of a Toulouse synagogue, while a rabbi was leading a class inside. 
• A 29-year-old Jewish man was attacked at a Paris subway station by a gang of about 20 people who yelled "Palestine will win." 
• In Bordeaux, two kosher food shops were vandalized.
• A car at the synagogue in Toulon was burned.

Germany:
• Several anti-Israel protesters were arrested for illegal anti-Semitic banners at a demonstration, and Berlin's Holocaust memorial was vandalized with anti-Semitic slogans and swastikas.

Greece:
• The leader of a far-right party published an editorial that accused Israel of acting in Gaza like the Nazis, claiming that such could be expected of Jews because they are "Christ-killers."  The editorial also included the phrase, "it is known all over the world that a Jew smells of blood." 
• A synagogue in Volos was defaced with graffiti that read: "The state of Israel murders – whose side are you on?"

Ireland:
• The Irish Times published a cartoon ("Final Solution," Jan. 2) clearly equating Israel's military operation against Hamas with the Holocaust.

Netherlands:
• At an anti-Israel rally in Amsterdam that included the participation of a Dutch legislator, the crowd chanted, "Hamas, Hamas, Jews to the gas."

Spain:
• Anti-Israel demonstrations in Barcelona, Valencia, and Sevilla included signs that equated Israel with Nazi Germany.

Sweden:
• A Molotov cocktail was thrown into the synagogue in Helsingfors.

Switzerland:
• Anti-Israel protesters carried signs equating Israel with Nazi Germany.

Turkey:
• On January 4, Prime Minister Recep Tayyip Erdoðan accused Israel of atrocities and predicted divine punishment, saying Israel was "perpetrating inhuman actions which would bring it to self-destruction. Allah will sooner or later punish those who transgress the rights of innocents."  Two days later, an Israeli basketball team in Turkey fled from the court into the dressing room, because the crowd became threatening, calling them "killers."

United Kingdom:
• The Community Security Trust reports over 25 anti-Semitic incidents since December 29, 2008, including an arson attempt against a synagogue in the Brondesbury section of London. 
• Other synagogues were vandalized with anti-Semitic slogans, including "Kill Jews" and "Jihad 4 Israel"
• A Jewish community center was spray-painted with pro-Hamas slogans. 
• In London, a Jewish man was pulled from a car and beaten by three men, reportedly of Arab descent. 
• Jewish shops were attacked by Arab youths who reportedly shouted anti-Israel slogans