The Common Hatred of the Islamo-Fascists and Neo-Comms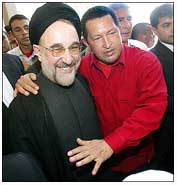 This decade has respawned the horrible fashion of the 1940's- the anti-semitic dictator. The Islamo-fascists have a friend in the neo-comm Hugo Chavez. As told in the in the Weekly Standard, Chavez's "Christmas" message says it all:
"The world is for all of us," he said, "then, but it so happens that a minority, the descendents of the same ones that crucified Christ, the descendents of the same ones that kicked Bolivar out of here and also crucified him in their own way over there in Santa Marta, in Colombia. A minority has taken possession all of the wealth of the world . . . "
Hatred for the Jews is ripe in the world, but the free world is slow to recognize it. Our state department was blind sided when Hammas became the elected leaders in Gaza, and underestimated this pure hatred that unites the new Axis. I hope they see the same growing in our hemisphere. Thanks to Olive Tree Ministry for pointing this one out to me.