Lawlessness Revealed
Don't let anyone deceive you in any way, for that day will not come until the rebellion occurs and the man of lawlessness is revealed, the man doomed to destruction.
2 Thessalonians 2:3 (NIV)
It is said in the Bible that the Earth was filled with violence in the days of Noah.  Jesus said the end times would be like the Days of Noah.
The signs of increasing violence and lawlessness are now apparent for even the skeptic to see. True, the world has always seen areas of horrible violence; wars, genocide.  However, in the last 100 years, violence has grown exponentially, even compared to the bloody past.  Now, even areas once considered "safe" are not immune. Here's just a few examples.
Children as Targets

In the growing violence of Mexican drug wars "hitmen from Mexico's drug gangs are breaking traditional codes of honour by killing children, in a chilling new chapter of a narcotics war that President Felipe Calderon is struggling to control." (The Age)  School shootings are a continuing plague that has affected American and even highly controlled European suburbia.  Russian dictator Vladamir Putin used the terrorist hostage massacre of Russian schoolchildren in 2004 to consolidate his power.
The Rise of International Gangs

MS-13 is not just a dangerous street gang, but they represent an international terrorist sub-culture steeped in open Satanic worship.  From Alaska to South American, gangs like MS-13 have spread like a virus, there is no corner of the western hemisphere where this gang and its clones are not involved in brutal violence and crime.  If the U.S. enters a period of civil unreset due to ecomonic conditions and terrorists attacks, watch for these gangs take control of vast urban areas.  Refer to this documentary.
Terrorism
The growth of terrorism is apparent to all, and it has been steadily growing in power and scope. No longer content with hijacking and hostage taking, terrorism in the 21st century attacks the infrastructure of entire nations. From destroying massive skyscrapers in New York to taking over major sections of huge cities like Mumbai, this force is eroding at the very foundation of freedom.
Piracy

Now that pirates have seized one of the largest oil tankers in the world, people are noticing a problem that has really has been growing for the last several decades.  These high-tech bloodthirsty pirates take their booty and feed back into international terrorism and criminal networks.  All busy shipping lanes  are fast becoming targets for this scourge. No longer limited to areas like Somalia, or Southeast asia, these pirates are a new bluewater criminal navy with high tech resources and deadly modern firepower.
The Man of Lawlessness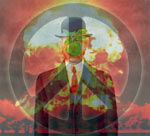 This all is a prelude to a coming world leader who will have a false answer to an unprecendented growing level of violence and war. This man will be a false-Christ and people will look to him for hope.  Let me go on the record to say I do not think president elect Obama is this man, but I think the irrational, unbridled worship that people directed towards Obama is but a tiny hint of the worship they will direct to the man.
The Real Answer

The real answer to this violence is Christ.  Christ will return to this earth someday, and it is only He that offers both personal and International peace.