U.S. Military Reports China in Cyber War with U.S.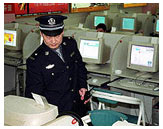 With the recent attacks on the DNS infrastructure in the news, Federal Computer Week reports Department of Defense cyber defense units such as the Naval Network Warfare Command (Netwarcom) in Norfolk, Virginia are continually defending the U.S. defense infrastructure against organized attacks by the Chinese military. FCW quotes Netwarcom officials who say "it's hard to believe it's not government-driven."
On the heels of increased Chinese military activity including the demonstration of their ability to attack our critical satellite infrastructure, this is in line with China's preparing to become the dominate world superpower. Only the U.S. stands in their way.
Between the threat from China, Russia's postioning itself against the U.S. again, and the threat of nuclear terrorism, it is not hard to imagine the U.S. going away as a superpower. At best, this will be a slow ramp-down from superpower status like the U.K. in the last century. However, it is clear our enemies are gearing up for a more overt series of moves that may be far worse than Pearl Harbor. What better place to start than our high technology sector?