God vs. High Technology Weapons

One of the most amazing Biblical prophecies involves the uniting of the world's armies to attack God see (Revelation 17:14). On the surface it may seem impossible that the world's armies would ever truly unite and would do something as inane as attacking the creator of the universe.
However, consider this statement by Ronald Reagan, spoken in Maryland on December 4, 1985:
. . . if suddenly there was a threat to this world from some other species, from another planet, outside in the universe. We'd forget all the little local differences that we have between our countries, and we would find out once and for all that we really are all human beings here on this Earth together.
— Ronald Regan
If the world perceived an extraterrestrial attack, it would react in a unified manner.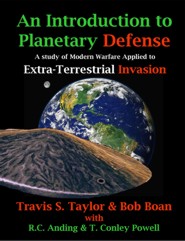 In fact, serious studies by military analysts have recently been published on modeling just such an ET threat. Authored by four respected scientists and professors who work with the U.S. government and Defense Department, An Introduction to Planetary Defense: A Study of Modern Warfare Applied to Extra-Terrestrial Invasion details the possibly of an ET invasion and possible responses to this threat. It is very interesting that the subject of fighting alien invaders is being taken seriously by some in the defense community. Since the late 1800's Science Fiction mass-media really pushes the idea of an alien threat. With over 120 years of such cultural conditioning we all have the "Alien Threat" built into our perception. With a Biblical lens, it is easy to see how this perception could be used to rally the world against the returning Christ. This could especially be the case if the world accepts the existence of ETs along with the possibility that fallen angels masquerading as ETs themselves would "spin" Christ's return, deceiving the nations to encourage a futile attack against Christ. For more information on this, refer to my article "The Various Sides of ET Deception."
Media Reference – Dr. Travis Taylor, Dr. Bob Boan Interview in Richard Syrett Show (Real Media)