The Media Guns for UFO Disclosure- Will the Truth be the Victim?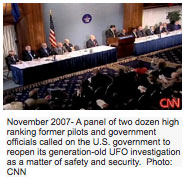 As I discussed last year, the United Kingdom's Ministry of Defense has published publicly many of its UFO research files that were otherwise only available upon request. The news media has been rapidly discovering something that we've known all along: UFOs are sighted by reliable, independently verifiable witnesses such as Military pilots, Commercial pilots and ground personnel.
The mainstream media has picked up on two stories recently from these MOD files:
Even though these are older accounts, they come against the backdrop of one of the most dramatic years for UFO sightings, especially in the British Isles. It is important to remember that the timing of these events are not accidental; about a year ago a very respectable panel of experts pushed for the renewed study of the UFO phenomena in a press conference in Washington, DC.
Others, such as the new-age Exopolitcal movement, are pushing not for a neutral examination of UFOs, but rather a charged view that they are here as saviors.  Others will claim that they are a threat. All of this adds up to increased confusion in the public rather than disclosure, a confusion which will ironically feed into the hands of the dark entities behind these manifestations.