UFO over Chicago Airport – Prophetic Deception Closer?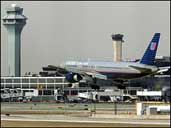 The mainstream media usually stays away from UFO reports like the plague, but over this holiday weekend most mainstream media picked up on a November 7 sighting at Chicago's O'Hare airport by various United employees, including pilots, crew, and ground personnel.
A flying saucerlike object hovered low over O'Hare International Airport for several minutes before bolting through thick clouds with such intense energy that it left an eerie hole in overcast skies, said some United Airlines employees who observed the phenomenon. Chicago Tribune, January 1 2007
The event was first reported to the National UFO Reporting Network on December 12, but the Chicago Tribune picked up the story after interviewing witnesses and an investigation revealed the FAA had been contacted even though the agency first denied it.
Like United, the FAA originally told the Tribune that it had no information on the alleged UFO sighting. But the federal agency quickly reversed its position after the newspaper filed a Freedom of Information Act request. Chicago Tribune, January 1 2007
Since it is unlikely a secret military craft would hover over the second busiest airport in the world, and the FAA's explanation that the craft was a weather phenomenon is even more ridiculous, this sighting is extremely dramatic and suggests an orchestrated demonstration.
From a prophetic standpoint, legitimate, unexplained UFOs and alien abductions are most certainly a physical manipulation by the highly intelligent malevolent multidimensional entities called the fallen angels in the Bible (for more info see this article). As we grow closer to the prophetic removal of the believers in Jesus Christ from this earth, the forces of darkness may well explain this event away via UFO's and "aliens" in an attempt to deceive those who might believe on Christ. These brazen UFO sightings and resultant media reports may become more frequent as these beings manipulate the world perception and try to force the hand of the U.S. government to reveal the existence of these craft, especially if prophetic events, such as a widespread war in the Middle East draws nearer. Expect to see these entities orchestrate the actions of world governments by alternating roles of friend and foe.